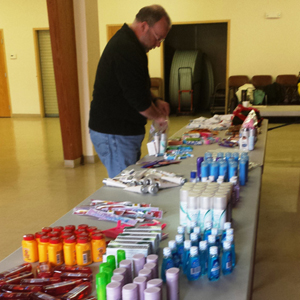 Donations
We humbly accept monetary donations, which go toward the operating expenses of our mission program. These expenses include maintenance of our delivery van, travel expenses for deliveries, and promotion of our programs and events.

Please make all checks payable to:
Heart 'n Hands Mission
Send to:
St. Timothy Lutheran Church
395 Valley Road
Wayne, NJ 07470

We believe every little bit makes a difference and we appreciate your generosity!

If you wish to make a donation, below is a list of what we accept:

Clothing | Coats
Jeans | Khakis
Belts | Sweatshirts
Sneakers | Shoes
Hiking Boots | Winter accessories
Handbags | Tote Bags
Backpacks | School Supplies
Crayons | Coloring Books
Diapers | Baby Wipes
Blankets | Bedding
Towels | Sleeping Bags

New white crew socks & underwear for men
New Toiletries – full size, travel size & hotel size
New Travel size Dental Care supplies
Feminine Hygiene Products - Individually wrapped
Children's books, small toys and games

IMPORTANT INFORMATION ABOUT YOUR DONATIONS

We are very grateful to all of our supporters who donate clean, wearable clothing to the Mission each week. Please note we cannot accept glassware, ceramics or china of any kind. Nor do we accept household appliances or kitchenware. Our space is extremely limited and we use every available inch for clothing, outerwear, shoes, boots, bedding, personal care items, diapers, children's books and small toys.

Please DO NOT leave your donations outside the doors of St. Timothy when the church is closed. If you cannot drop off your donations on Monday mornings when Mission Volunteers are working, please call the church office at 973-694-8316 and speak to Church Secretary Laurie Crowley about leaving your donations on another morning when the church is open.

If you are only available in the evenings, please call the Mission at 973-694-8316 and leave a message in Mailbox #6. A Mission Volunteer will get back to you as soon as we are able to make alternate arrangements for you to drop off your donations.

We are not accepting business clothing at this time.
Men's casual clothing, hiking boots and sneakers in good condition are especially needed.