Volunteering Counts.
2,000 individuals and families in northern New Jersey can be impacted by the difference of one person.
And YOU can be that person.

Volunteers are an integral part of the Heart 'n Hands Mission. We need many willing hands to perform the varied tasks involved in preparing clothing donations and personal care items for distribution each month. Each one of us uses the talents we have, and give whatever time we are able, to serve the homeless and working poor. Our policy is and will continue to be "Our Family responsibilities come first, then, do whatever we can to help our friends in need."
If you think you might like to help out
please fill out & submit our Volunteer Form below.
A member of our Mission will contact you.
Here is a listing of some different tasks and the time needed to complete them: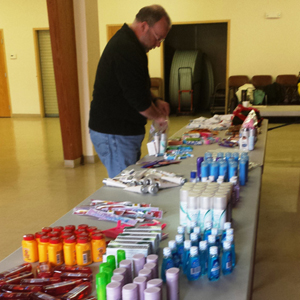 DELIVERY TEAM:
There are 5 Gathering Sites (Food Pantries/Kitchens) we serve.
Distribution deliveries occur once a month for all of these sites:
1st & 4th Mondays
2nd Tuesday
2nd or 3rd Saturday mornings
Delivery teams of 2 people make these deliveries. Gathering Site volunteers assist Mission volunteers to unload the van and carry in boxes and bags of clothing and supplies. Helping our friends in need find appropriate clothing is also part of the visit. Then the van is reloaded to return to church.

For TWO hours of your time, a Delivery can be a Simple Drop off.
Helping Hands Food Pantry
Passaic: First Monday: Delivery at 9:30AM
Calvary Baptist Community Center
Paterson: 2nd Tuesday: Delivery at 10:30AM
For THREE hours of your time, you can greet our friends in need and assist them.
First Presbyterian Food Pantry
Passaic: 2nd or 3rd Saturday: Delivery at 10:30AM
St. Paul's Community Development Corp
Paterson: 2nd Tuesday: Delivery at 9:00AM

For FOUR hours of your time you can greet our Homeless Friends
and assist them with their "shopping".
St. Matthew Trinity Lutheran Church Breakfast/Lunch Ministry
Hoboken: 4th Monday: Delivery at 8:30AM
---
COAT COLLECTION PICK UP:
Our holiday coat collection at local Dry Cleaners and Fitness Centers in November/December allows a flexible pick up schedule as coats, socks and shoes fill our collection boxes.
---


SORTERS:
Every Monday at St. Timothy between 9:30 am and 11:30am.
Volunteers sort, fold and package the donated items including:
gently used clean clothing, shoes, handbags and personal care items which the Mission receives from the Community.

---
ATTEND SPECIAL EVENTS:
Enjoy a day with us to raise funds for our one consistent expense, our traveling van
for the hundreds of homeless and working poor our Outreach program serves every month.
---
If you think you might like to help out
please fill out & submit our Volunteer Form below.
A member of our Mission will contact you.