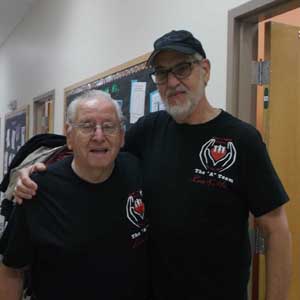 Volunteer With Us!
There are several duties to volunteer for:

Delivery Team of Two:
Be a part of the Double-D team. How wonderful it is to have volunteers to sort and box our donations, but it's all for naught without drivers to get it to our friends in need. Please consider giving of your "time and talents" as a member of a driving team to deliver the donations to one of our distribution sites. It only takes two or three hours to be a blessing to others!
Distributions occur once a month to each of our Gathering Sites (Food Pantries and Shelters) we serve. The first Monday, and second or third Saturday and the third Wednesday are the usual scheduled days. Three of our sites pick up their donations and three Delivery teams of two people make deliveries to locations in Passaic and Hoboken. Mission volunteers unload the van with the help of volunteers at the site and carry in the boxes and bags of clothing and supplies. Helping our friends in need find appropriate clothing is also part of the visit.
Coat & Clothing Collection Pick Up
Our year round coat and clothing collection at local dry cleaners allows a flexible pick up schedule as coats, socks and shoes fill our collection boxes.
Divine Cleaners at 615 Route 23 South, Pompton Plains and
Packanack Lake Cleaners at 58 Lake Drive West, Wayne.
Sorting
Every Monday at St. Timothy Lutheran Church from 9:30 am to 11:30am.
Volunteers sort, fold and box clothing, coats, shoes, accessories and personal care items for delivery.